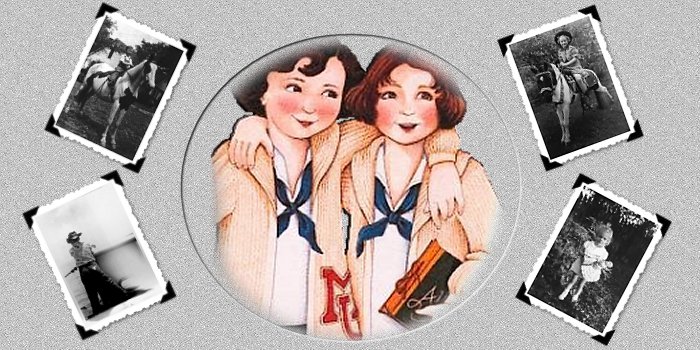 See that handsome fella over there?
That's my best friend, Jim.
Well, he's changed a bit since then.
There's now more hair on his face
than on the top of his head.
We met way back in January of 1965
and married on the first day of Spring
only two months later.
Has it really been that long?
My, how time flies when you're havin' fun!
He's a pretty good friend to hang out with.
We enjoy each other's company so much
that we plan on spending the rest of our lives together.
That says a lot about how good a friend he is!

Now, about meeting folks on the internet...
...it's a scary ole place, cyberspace.
Lookit that little girl on the right, on the pony.
She's "ThatKyLady" or Gradie, as I found out later.
Why, she could have been...oh, say...an "axe murderer"!
As a matter of fact, that's what we both expected!
Ya never know who you might be talking to
when it's *sight unseen* from a computer keyboard.
Turns out we're friends that seem more like sisters.
We joke that we're twins, separated at birth,
just a few years difference in our ages is all.
We live close enough to each other that we
are able to actually visit from time to time.
The Good Lord knew what He was doing when He got
these two "axe murderers" together! *lol*


Spend a little time with my other internet friends!
These links will lead you to some extraordinary websites.

Each link will open in a new browser window.



Gradie



Astro



Liz



Purrcat



Purrcat's Blog



Choklatz



Steph D



LadyOz



Junebug



Angelbleu



Misker



Vera



Taiga



cdrmom



Angie



SueH



College Grove



Blakemore



Blackman



Brentwood



Christ Church



St Mark's



Paul



Lee



Elephants



Project Linus



Genesis Equestrian



The Folktellers



Lake Neuron



stphransus



The Orne Family



Real Live Preacher









home |about | oh my! | goodies | cooking | links | tutorials
graphics © auntie em 2001-2007