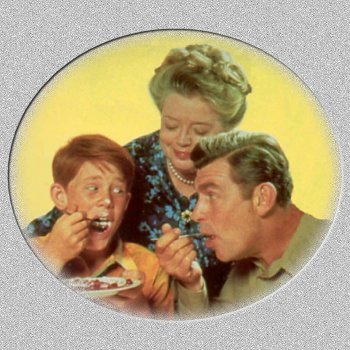 Yes, yes...I know that's a different Aunt up there. ::lol:: In case you are from another country and don't recognize her, she's Aunt Bee from the Andy Griffith TV show of the 1960s in the USA. "Aunt Bee's Mayberry Cookbook" © Ken Beck and Jim Clark 1991, Rutledge Hill Press, Nashville, Tennessee, is one of my favorites.

I love cookbooks, but not just for the recipes. A really good cookbook provides some insight into the origin or creation of the recipe. One of the best is out of print now, I think, called "Square Meals", by Jane and Michael Stern. There's a link to their website, Roadfood, on my Links page. If you can find a copy in your library or bookstore, I highly recommend it for a look at some of the most interesting foods and meals served during the last half of the past century in America.

Another source for me has been a series of cookbooks published locally by Tennessee Chapter #21 of the Telephone Pioneers of America. Titled "Dining with Pioneers", if you're looking for just one recipe, you might find five or six variations of it in one of these books. I don't know how many are in the series now, but I have the first two and they contain hundreds of recipes!

There's another cookbook I sometimes turn to, it's called...ummmm....well... ..."White Trash Cooking" by Ernest Matthew Mickler. Now, now...no harm meant in the title at all...not a bit of it! It's "true to life" down-home southern cooking. None of that *nouvelle cuisine* in here! The *real deal*, from Boiled Peanuts to Red Beans and Rice. Just talkin' about this book makes me want to go heat up the old black iron skillet!

The Better Homes and Gardens New Cook Book has always been a part of my kitchen and I'd better mention it too. When I get going on recipes for this page, I'll probably start with my favorite beef stew recipe, straight from the pages of my first BHG cookbook.

I had to learn to cook after I left home. My mother just couldn't stand anybody in her way in the kitchen. She was one of the world's best cooks, but then...she was my mother. Hmmm...your mom was too??? ::lol:: Not surprising! My friend, DeeDee, tells me when I was trying to cook at her house that I messed up everything I attempted. Her mother was, and DeeDee still is able to...how do I put it? She cooks by "instinct". That is, they could throw anything together in a pan and it would come out finger-lickin' good!

When Jim and I married we moved to Groton, Connecticut. Our first apartment was a three room deal with a gas oven in the kitchen. My mom had been cooking with electricity for years. I knew nothing about gas stoves. This three burner stove had an oven too small for a standard cookie sheet! One day I decided to make a blueberry pie. I lit the oven, put the pie in, and waited for a taste sensation that would show my hubby I could really cook! A while later I noticed my carefully cut and positioned lattice crust "submerging" into the blueberry filling. It had been browning beautifully right away, but something was wrong with my oven! I ran next door for help from a neighbor and she came back with me to see what was wrong. She started laughing and saying there was nothing wrong with the oven. For weeks, I had been lighting the only gas element visible to me...the broiler! It turned into the best "blueberry cobbler" I've ever baked. ::grin::

I still don't cook by instinct like DeeDee, but I've learned a lot over the years.

Fer instance...the catfish/bullhead I caught in Connecticut during the same year... I learned that when you skin a catfish to get it ready for the pan, you should remember the muscles still may be able to ~move~ in the deceased fish. It wrapped itself around my hand. I can still remember the spot the catfish left on the kitchen ceiling in the tiny apartment kitchen!







home | about | friends | goodies | oh my | links | tutorials
graphics © auntie em 2001-2007