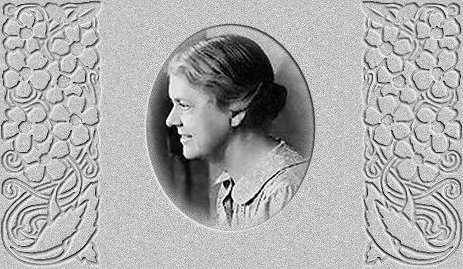 I have to tell you a sad, bittersweet story of the real "Auntie Em". When I was doing some research about the movie "The Wizard of Oz", I happened to look up the name of the lady who played Auntie Em in the movie. I discovered that there was more to Auntie Em's story than the movie revealed.

The MGM movie never reveals what happened to Dorothy's real mother and father. L. Frank Baum merely tells us that Dorothy was an orphan and lived with "Uncle Henry, who was a farmer, and Aunt Em, who was the farmer's wife." In the first chapter of the book, he describes her in this way:

"When Aunt Em came there to live she was a young, pretty wife. The sun and wind had changed her, too. They had taken the sparkle from her eyes and left them a sober gray; they had taken the red from her cheeks and lips, and they were gray also. She was thin and gaunt and never smiled now."

Baum didn't keep poor Henry and Em on the depressing Kansas prairie forever, though. In his sixth Oz book, The Emerald City of Oz, the two of them are magically whisked to Oz and invited to live there forever. When Aunt Em sees the magnificent Emerald City, she exclaims, "It beats the Topeka Hotel!"

Clara Blandick was born on June 4, 1881 on an American ship in the harbor off Hong Kong, thereby automatically becoming an American citizen. She began her acting career in silent films in 1910. Known to generations as "Auntie Em" in the 1939 film classic The Wizard of Oz, Clara Blandick was often cast as an aunt, having played "Aunt Mattie" in A Star Is Born, and "Aunt Polly" in Tom Sawyer, and Huckleberry Finn. When she retired in 1950, she had appeared in 110 films.

Clara's last years were sad and lonely. She suffered arthritic agony and faced the loss of her eyesight. On April 15, 1962, she penned a pathetic note which read: "I am now about to make the great adventure. I cannot endure this agonizing pain any longer. It is all over my body. Neither can I face the impending blindness. I pray the Lord my soul to take. Amen."

A trouper to the end, on the day of her death, she fussed with her hair, gowned herself in a royal blue bathrobe, and lay down on a couch. She took an overdose of sleeping pills and covered herself with a gold colored blanket.

Beloved "Auntie Em" went back home.





graphics © auntie em 2001-2007